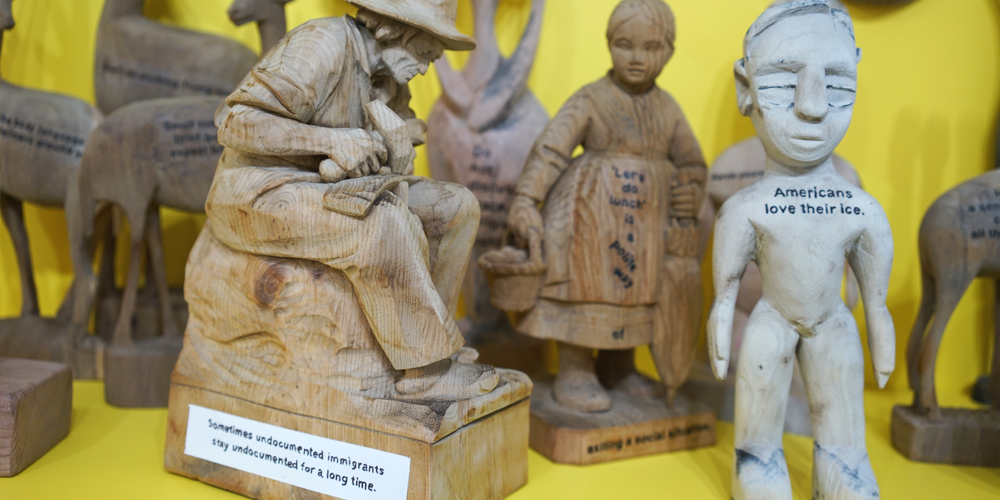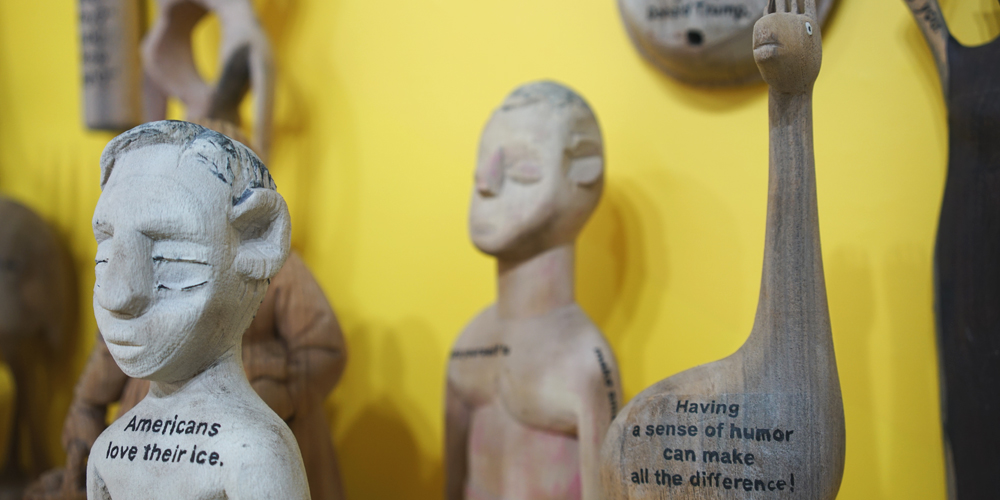 CULTURAL TIPS FOR NEW AMERICANS UNDER TRUMP
Throughout their practice, Alina and Jeff Bliumis engage in an ongoing investigation into foreignness and the ontology of cultural misfits. As exemplified by the title of their first catalogue, Receiving the Stranger, the artists' work is rooted in the desire to communicate through difference. Using communication as the medium par excellence, their projects raise questions around what constitutes community, what constitutes borders, and how the former are shaped by the latter. Most importantly, the artists acknowledge that language itself can function as a border, as a paradigm of power, and can be used to frame communities. In the words of literary theorist Leo Bersani, language doesn't merely describe identity but actually produces it.
Cultural Tips for New Americans Under Trump reiterates a project that Alina & Jeff Bliumis first undertook in 2011. In this earlier iteration, Cultural Tips for New Americans, the artists set out to compile advice that people who consider themselves "real Americans" give to newcomers, to supposedly help them assimilate to their new surroundings. Characterized by a certain lightheartedness and humor, these cultural tips in fact reveal inherent aspects of American society and say more about Americans themselves than the communities to whom they address their advice.
Having immigrated to the United States from Eastern Europe, Alina and Jeff Bliumis picked up on this American encouragement to "blend in" early on. Now, in the wake of our current political climate, the artists felt an urgency to revisit this project, and gathered additional cultural tips for new Americans living under the Trump presidency using handbooks, public forums, street question- naires, and social media. The collection of tips that resulted from the artists' inquiry ranges from amusing suggestions (If someone says 'come over anytime' don't take it literally) to harsh realities (Sometimes undocumented immigrants stay undocumented for a long time). Concurrently, the artists collected ethnic wooden souvenirs, which radiate a certain fetishization of otherness, from all around New York City and sandblasted these objects to remove their original decorations and uncover the wood underneath. The cultural tips are then written onto the wooden souvenirs in ink, causing them to become decontextualized objects, much like the immigrants to whom the cultural tips are addressed.
by Ksenia M. Soboleva,
Cultural Tips for New Americans Under Trump, 2018, Series of 72 objects, Wood and ink, Dimensions variable, Unique.
Installation view:Cultural Tips for New Americans Under Trump, curated by Ksenia M. Soboleva, SPRING/BREAK Art Show 2018, Strangers comes to town